Filtros de Agua,Filtros de Casa,Replacement Filters,Filtro para dispensador de agua, equipo de ósmosis, Filtración,tratamento de esgoto,tratamento de agua ,esgot,Purificador,filtro que,terminal purification,water filter terminal purification water,water purification system,water purification filter,personal water purification filter,water purification outdoor,portable water purification,personal water purification,water filters for household,stainless steel water filters for household,water filters for home,water filters pre-filter,ge water filters,water filters uf water purifier,water filters big blue,commercial water filters,pure water machines,carbonated water machine,alkaline water machine,water filter pitcher,water dispenser vontron,sorekara,omelaiya,water purifier for home,uv water purifier ,outdoor water purifier ,water filter purifier ,mineral water ro water purifier,filter purifier ,nsf filter El filtro de agua,Filtro purificador de agua El filtro cerámico está hecho de,Filtro purificador de agua para ducha o ba?era,Filtro cerámico – filtración,,Equipo de ósmosis inversa 5 etapas,Membrana de ultrafiltración para equipos de ósmosis 50 GPD,Purificación por ósmosis Inversa,Más producción de agua membrana 50 GDP,Membrana 50 GPD válida para casi todos los equipos de ósmosis inversa del mercado. Fabricada con poliamida, filtra y separa las sales y minerales presentes en el agua.water purification system reverse osmosis,reverse osmosis water purification system machine,water purification reverse osmosis,water purification ro system,water filters for household uf water,water filters for household reverse osmosis,ro membrane housing,ro membrane 75 gpd,ro membrane reverse osmosis,water filter ro membrane,ro membrane 100,ro water filter,ro water filter accessory,ro water system,filters ro ,ro filter system ,ater filter osmosis,vontron membrane,Filtro para Purificadores,Membrana de ultrafiltración para equipos de ósmosis 50 GPD,
2016 New Style Vontron ULP1812-75 Residential Water Filter +75 gpd RO Membrane Used For Reverse Osmosis System
+Household Water Purifier +NSF/ANSI
The 1812-sized and 2012-sized residential membrane elements are mainly applicable to various small-sized systems, such as household water purifier and other water purifying devices in hospital and laboratory.
Being suitable for the desalting treatment of those water sources with salt concentration lower than 2000 ppm, such as surface water, underground water, tap water and municipal water, etc., ULP series are mainly applicable to numerous applications of various sizes, such as pure water, boiler water replenishment, foodstuff processing, and pharmaceutical production, etc.
Model

Active Membrane Area

ft2(m2)

Average Permeated Flow

GPD (m3/d)

Stable Rejection Rate (%)

Minimum Rejection Rate (%)

ULP1812-50

3.5(0.32)

50(0.19)

97.5

96.0

ULP1812-75

4.2(0.38)

75(0.28)

97.5

96.0

ULP2012-100

5.0(0.46)

100(0.38)

95.0

93.0
Testing Conditions:
Testing Pressure………………..60 psi (0.41Mpa)
Temperature of Testing Solution ………………….………..25°c
Concentration of Testing Soloutiong(NaC1)…………………..250ppm
PH Value of Testing Soloution…………………..7.5
Recovery Rate of Single Membrance Element …………………..15%
Extreme Operation Condition:
Max.Working Pressure………………………..300psi(2.07Mpa)
Max.Feedwater Tempertrue ………………….………..45°c
Max.Feedwater SDI…………………………………….5
Free Chlorine Concertration of Feedwater…………………………<0.1ppm
PH Rang of Feedwater during Continuous Operation………………3~10
PH Rang of Feedwater during Chemical Cleaning………………2~12
Max. Pressure Drop of Single Membrance Element……………10psi(0.07Mpa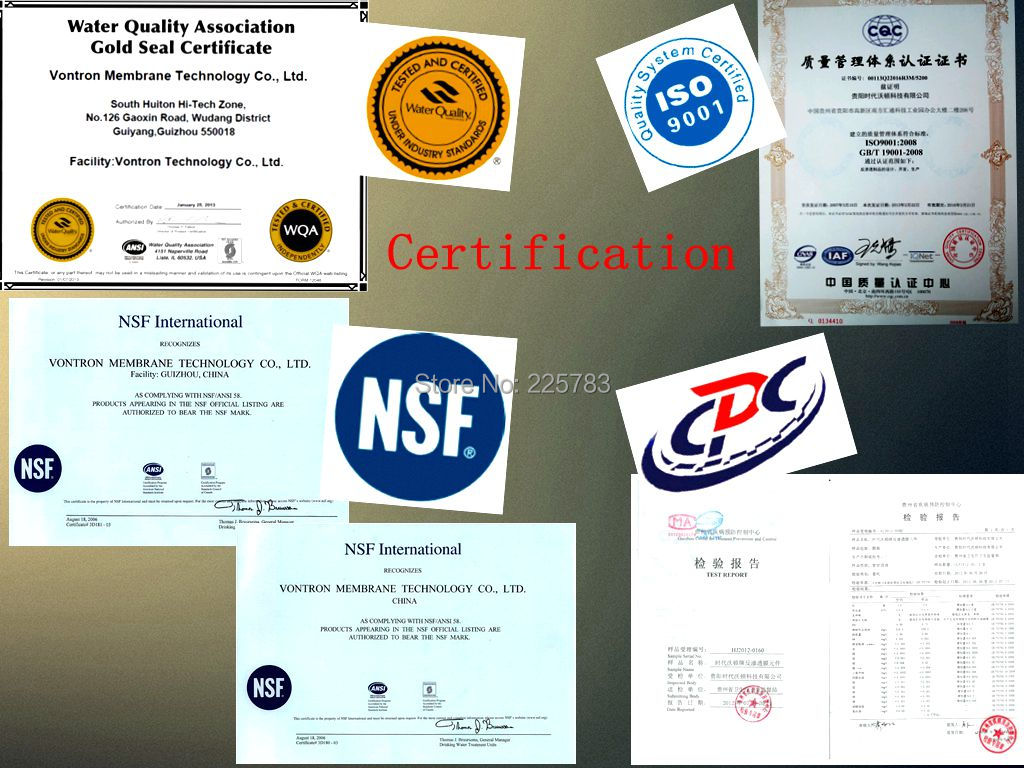 Purify varying qualities of municipal wate
Drinking water for restaurants
Drinking water vending machines
Aquarium water treatment
Softened water for homes, hotels, commercial laundries and car washes
Post-treatment of deionized water
Pure water for pharmaceuticals, laboratories and electronics
Hemodialysis
Oil/water separatio
Innovative thin layer composite membrane design
Provides high rejection stability even with high TDS
Less fouling, Less frequency cleaning and More consistent
100% dry membrane maximizing shelf life
Lower consumption of chemical and longer life
Standard dimensions to fit in commonly availalbe housings
Eligible for NSF